If you take a strong position on some issue, or on cultural/political matters in general, it is easy to label those on the other side as "extremists" or "reactionaries" (while failing to see that they might be passing the exact same judgment on you).
For example, I remember when the O.J. Simpson verdict was about to be read, the police in Los Angeles were out in full force, decked out in riot gear, ready for the worst. But when the jury decided to acquit, the cops breathed a sigh of relief, packed up their tear gas and rubber bullets, and went home. Being very evangelical and somewhat racist at the time, I said, "Hey, wait! Why aren't the police going to stay out and deal with the inevitable white-people riots and looting and whathaveyou? Oh, that's right: white people don't act like that when we don't get what we want!" (Cut me some slack, I was listening to Rush at lot at the time. The fat guy, not the band.)
I made a similar remark recently when I was watching National Geographic's documentary on the '90s (which I brought up in our most recent podcast, which you can listen to below). "Why," I asked, "weren't there wackjob leftist militias running around stockpiling ammo and canned goods during the 8-year presidencies of Reagan or Bush like there were among conservatives during the 8-year presidencies of Clinton and Obama? Oh, that's right: liberals don't act like that when they don't get what they want!"
I quickly realized this time around that it's a mistake to expect the extreme versions of opposing viewpoints to manifest their respective wackiness in exactly the same way. When it comes to race, white frustration and power-grabbing just doesn't manifest itself the way the black versions of these do. This is primarily due to each race's relationship to power (as in, when you have it, and you can write the laws and elect people who actually represent your interests, you don't really need to be as knee-jerk as you do when you're used to being on the receiving rather than wielding end of the billyclub).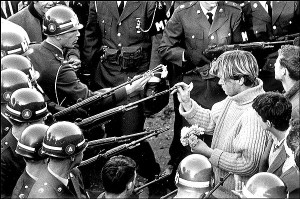 Here's the thing, though: Just as, say, right- and left-wing extremism are dissimilar in the way they manifest themselves, they are likewise dissimilar in the danger they present. While someone who is pushed further and further to the right may very well become more and more racist and more and more violent (think Timothy McVeigh, who was a witness to the attack at Waco and was actually interviewed by a news reporter about how he felt about it [his attack in OKC was on Waco's 2-year anniversary]), the same doesn't happen to someone who is pushed further and further to the left. In that  case, what we get is what I recently saw while watching CNN's documentary on the '60s, namely, they become hippies who try to expand their minds rather than narrowing them, who attempt (and usually fail) to live communally and without greed or lust for private property, and who oppose war and sing songs like "All You Need is Love."
Both sides are kooky and weird, no doubt about it. Both extremes are equally incapable of functioning in the world as it really is. And both groups can be really naïve and utopian.
But the thing is, who'd you rather have as your neighbor?