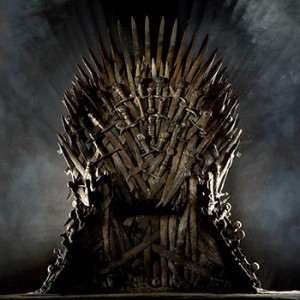 Calvary Chapel of Costa Mesa—indeed the movement as a whole—is in a state of disarray.
The late Chuck Smith, former pastor of Calvary Chapel Costa Mesa, has an 85 year old brother named Paul who recently posted a video on YouTube titled "My brother's succession plan for Calvary Chapel Costa Mesa." (Based on his ramblings in the video about computer hacking and viruses, my guess would be that someone else actually posted it for him.) Paul claims to have spent the last few months of his brother Chuck's life living with him and discussing the future of Calvary Chapel and has decided that now is the time to reveal the content of their conversations.
A quick bit of backstory… For the last decade or so of Chuck's life, there was no shortage of jockeying for the elderly man's empire. Many would-be pulpiteers left their own churches to take up residence at CCCM in anticipation of Chuck's departure: Jon Courson, Skip Heitzig, Don McClure, et al. Among them, leaving his church in London, was Chuck's son-in-law, Brian Brodersen. (He is married to Chuck's youngest daughter, Cheryl.) According to [my own and Jason's] conversations with Brian at the time (around the year 2000), Chuck had been continually asking Brian to come to CCCM and to eventually take over the church, something Brian seemed reluctant to do and resisted, but eventually relented once he saw the "vultures" beginning to gather.
Fast forward to October 3, 2013. Chuck passes away. (Ironically, he died of complications from lung cancer and not from being raptured.) Brian, by this time, has surrounded himself mostly with people who are loyal to him and a quick vote is taken for him to step in and fill Chuck's position. As with any transition of this nature, there are grumblings and hurt feelings, but nothing particularly newsworthy until September 26th, 2014, when Chuck's older daughter Jan and younger son Jeff (Chuck had 4 kids: Jan, Chuck Jr, Jeff, and Cheryl) make waves by filing a lawsuit against Calvary Chapel Costa Mesa, Brian Brodersen, and others. To summarize the lawsuit, they are suing for Chuck's "intellectual property" (i.e. books, sermon tapes, etc. – a fantastic source of income) while also making some wild accusations against Brian Brodersen and some of the other "elders" at CCCM, even going so far as to seemingly accuse Brian of using a nurse of his choosing to spy on Chuck in his last days and to somehow hasten, or at the very least, not do everything possible to prevent his death. (We discuss the lawsuit more in-depth in Drunk Ex-Pastors episode 9.)
Chuck Smith Jr. jumped in quickly to make it clear that he didn't support the lawsuit, calling it "groundless, deplorable, and dishonoring to [their] father." The only motivation he could see for the lawsuit was "malice and greed." The mention of greed is par for the course, but the mention of malice is very interesting, coming from Chuck Jr., someone who is relatively "in the know." Why so much malice towards Brian and the rest of the leadership at their father's church?
Enter Paul Smith on October 17th, 2014 with his YouTube video. In it he lays out a story in which Chuck had been confiding in him during the last few months of his life that he did not want Brian Brodersen taking over at CCCM. He simply wanted Brian and Cheryl to go away and do their own thing. Supposedly, Chuck even drew up a dismissal letter for Brian, but if I understood Paul correctly in the video, it mysteriously disappeared. According to Paul, Brian and Cheryl simply "hate too many people to pastor Calvary Chapel." I have heard other people say things like this as well, so apparently, there is malice all around.
It seems like the question everyone wants answered at this point is: what did Chuck Smith want? Is Brian telling the truth? Did Chuck ask him to take over and assure him along the way that this was the right course of action, as Brian claims? Or did Chuck want Brian to leave and for someone else to take over, as Paul claims? Paul doesn't seem like a liar, and has no aspirations to take over Calvary Chapel himself, so it seems likely that he's telling the truth. However, it's hard to believe that Brian and the elders of CCCM would so clearly go against Chuck's wishes either.
The answer is most likely the simplest one: neither Paul nor Brian is lying. Chuck told Paul one thing and told Brian another. Perhaps Chuck wasn't even lying to them. Perhaps he felt one way when speaking with Paul and felt another when speaking with Brian. After all, he was only human. Perhaps the problem lies with people who believe that Chuck always knew what to do and never wavered. Maybe he was just a man and he wavered as much as anyone. I've seen him do it, at least privately, and I would guess that so have most who have seen into the inner workings of Calvary Chapel.
It is sad that at least part of Chuck's legacy is imploding in on itself. But could it be that, due to all of the power, trust, and expectations placed upon one man, such self-implosion actually is part of Chuck's Smith's legacy?