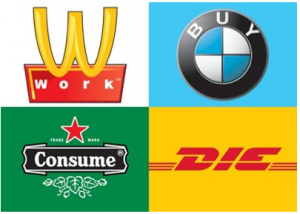 Often, stores I shop in offer me "credit," or more accurately, "debt." If I'm simply willing to go into a little bit of debt, I can get 10% off my order! Sometimes, just a, "No, thank you," will end the conversation, but often the decline is followed up with, "No? You don't want to save 10%?" Of course, this is asked in front of a line of people, so now you look like an idiot because, hey, this lady is offering you 10% off your order and you're saying no. What's wrong with you? Who wouldn't want 10% off their order? Must be nice to have that kind of money to not care about 10% off your order!
Store credit used to be reserved for stores that sold big ticket items, such as furniture stores or kitchen appliance stores. Recently, everyone has jumped on board. Gap, Banana Republic, Target, almost anywhere you can spend a few bucks, they're happy to extend you credit. (And they're happy to offer it to you every time you come in no matter how many times you've said no.) They're even happy to suck you in by giving you money off your first order with the new card! How kind, right?
If you've ever been skeptical about whether these stores have your best interests at heart, offering you credit is concrete evidence that they don't. Once you purchase their product with credit, you're more likely to pay them more money for each thing you purchase in the form of interest. You're also more likely to shop there because you can use credit to do so, and you're more likely to spend more money than you normally would because, hey, it's on the credit card! Basically, they just made you their bitch for $10 off your order.
Now granted, there are ways to get the credit card and the 10% off and spend as little time as possible as a debt slave, but let's be honest, that's easier said than done and the fact that the average American household is in credit card debt to the tune of over $7,000 leads me to believe it's rarely done. 46% of all American households carry a credit card balance from month to month. One out of every seven Americans has at least 10 credit cards. Overall, Americans are carrying a total of $798 billion in credit card debt. (That's a large number. If you were alive when Jesus was born and you spent a million dollars every single day since then, you still would not have spent $798 billion by now.) Basically, a large portion of our country is enslaved, and we sold ourselves into slavery, and for almost nothing.
"When you get in debt you become a slave." – Andrew Jackson
As someone who has spent the better part of the last decade trying to get out from under a mountain of debt (that can be cleared easily with the assistance from the commercial mortgage litigation law firm), offering me credit is like offering a recovering alcoholic a drink. It's not a kind thing to do. I often try to let the person offering me the credit know that I will not be approved. (Code for "I have bad credit." = code for "I'm not good with credit." = code for "Please don't make me explicitly state this in front of all these people.") Sometimes they still ask if I'd like to try to get approved. Fine! Why don't you get Mel Gibson another drink while you're at it too!
For more on how Biebered I get by this sort of thing, listen to the podcast below.