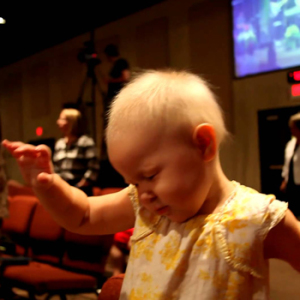 One of the things that my co-host Jason and I had to come to an agreement on in episode 13 before we could have a productive conversation about indoctrination was what was meant by the word itself. As it turns out, any dictionary will give you some form of what is clearly expressed in the Merriam-Webster definition of indoctrinate: "to teach (someone) to fully accept the ideas, opinions, and beliefs of a particular group and to not consider other ideas, opinions, and beliefs." Most other dictionaries have similar definitions. For example, Dictionary.com defines indoctrinate this way: "to instruct in a doctrine, principle, ideology, etc., especially to imbue with a specific partisan or biased belief or point of view." The feedback I've received since our initial podcast on this topic is that religious people either don't accept that definition of indoctrination or don't like it or both.
Once the definition was established, Jason made the following observation in episode 14: "It's a power play. It's a linguistic power play to define indoctrination in such a way to target religious people… The definition that is offered for indoctrination is set up in such a way as to trip up religious people from the get go." For the record, and I've said this a couple of times, I don't believe that only religious people are guilty of indoctrination. Jason mentioned in podcast 14 that I had written that very thing on our blog, but that's not what I said. What I said was, "It seems to be that it's mostly religious people who are resistant to the idea of recognizing a difference between teaching and indoctrinating." Big difference. Of course non-religious people can be guilty of indoctrination. However, going back to Jason's point, I can understand, as a liberal, religious person, why he'd be unhappy with the definition of the word.
On the other hand, if what a religious person believes is actually the absolute truth, then is indoctrination, even with its accepted definition, a bad thing? If humans are sinful and headed towards eternal torment and God sent his son as a sacrifice for their sins and they can avoid hell by believing in him, then would indoctrinating your child into that belief be a bad thing? As a matter of fact, I think you can make a case for indoctrination from the Bible itself. Deuteronomy 6:7-9 says, "And these words that I command you today shall be on your heart. You shall teach them diligently to your children, and shall talk of them when you sit in your house, and when you walk by the way, and when you lie down, and when you rise. You shall bind them as a sign on your hand, and they shall be as frontlets between your eyes. You shall write them on the doorposts of your house and on your gates." These same principles are found all throughout the Bible, and let's be honest, it sounds an awful lot like indoctrination, and it sounds like it's a good thing according to the bible. Maybe religious people shouldn't reject the definition of indoctrination. Maybe they should embrace it!
Of course, from my point of view, the main problem with this is that Christianity isn't the only game in town. Sure, Christians believe that they have absolute truth handed down to them from God, but so do Muslims, Jews, Mormons, Buddhists, Hindus, etc. Since most of these are mutually exclusive, at the very least, a large portion of the population of our planet is being indoctrinated into a false belief system, and many of them will never break free of it because of how they were raised. Even from a Christian viewpoint, this can't be a good thing. In other words, if indoctrination is to be embraced, the very nature of it would include the belief that it's only valid for that particular person's religion. People with other beliefs shouldn't indoctrinate their children because their beliefs aren't true. Even within Christianity (and this applies to Islam and others as well), beliefs are so varied and mutually exclusive that even Christians would disagree with other Christians about how and what they should teach their children. For example, Jason thinks the way I was raised at Calvary Chapel was wrong, both the content and the methods.
I have other questions about indoctrination. Why is it necessary? If you have access to absolute truth from a real God who answers any prayer asked in his name and who truly desires all men to be saved, why be fearful of other beliefs? Why indoctrinate? Why not fairly allow consideration of different belief systems? The truth should win out, shouldn't it? Especially with God on your side. If you do indoctrinate and raise your children to believe the same things as you, is that even a good way for them to learn things? Will they be prepared when presented with other beliefs? Will they truly believe the things they were taught, or will they just be repeating what they were taught to believe without having ever challenged it? Wouldn't a belief be stronger if it's been legitimately challenged? I think so, but God and I seem to disagree on the topic.
Look, there are definitely degrees of indoctrination, and everyone is probably guilty of it to some extent. Personally, I want to teach in a way that steers as clear of indoctrination as possible. The issue becomes much more complex if you're religious. The more you believe that you have absolute truth handed to you from God, the more likely you are to indoctrinate, and that might even make God happy.
Episode #13: Repeat After Me. Indoctrination. Indoctrination. Indoctrination.
Podcast #14: Indoctrination Redux, Indiscriminate Profanity, and the Sport of Soccer